Apply Now to Participate with the 2016 & 2017 Eagles


AMERICAN EAGLES BASEBALL CLUB

2016 AUSTRALIAN BASEBALL SHOWCASE TOUR
VARSITY AND J.V. TEAMS
TUE JUL 26 Depart Los Angeles via scheduled airlines.
WED JUL 27 Cross International Dateline in flight.
THU JUL 28 Arrive Sydney, Australia. Connecting flight to Cairns, Queensland.
Coach transfer to hotel. Day free to relax and wander
around downtown Cairns. Afternoon practice session.
FRI JUL 29 Great Barrier Reef Tournament
SAT JUL 30 Great Barrier Reef Tournament (2 games)
SUN JUL 31 Great Barrier Reef Tournament- BBQ party
MON AUG 01 Morning boat cruise to Fitzroy Island, Great Barrier Reef.
Day of snorkeling and fun on the reef. Afternoon return to Cairns.
TUE AUG 02 Hotel check-out. Depart Cairns, fly to Brisbane. Coach Transfer to the Gold Coast, Surfers Paradise.
WED AUG 03 Exhibition Game vs. Queensland Academy
THU AUG 04 Exhibition Game vs Queensland Academy
FRI AUG 05 Team meeting with the Australian Director of Major League Baseball
Exhibition Game vs. Robina High School
SAT AUG 06 Exhibition Game vs. Robina High School
SUN AUG 07 Exhibition Game vs. Robina High School
MON AUG 08 Free Day.
TUE AUG 09 Depart Brisbane. Arrive LAX the same day.
PRICE: $4,395. From LAX. Tour price based on airfares, tariffs, land costs, and exchange rates currently in effect
and is subject to change. Contributions are tax deductible.
NOTE: The above itinerary is an outline of travel, competition and sightseeing; and is subject to change.



--------------------------------------------------------------
The 1988 American Eagles
Tournament Champions
International Youth Friendship Series
Sydney, New South Wales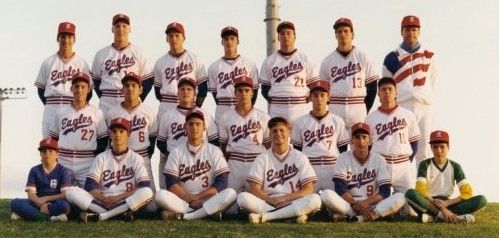 ------------------------------------------------------------------------
And 20 years later!
(See if you can find the one person who is in both photos)


The 2008 American Eagles
Tournament Champions
Great Barrier Reef Tournament
Cairns, Tropical North Queensland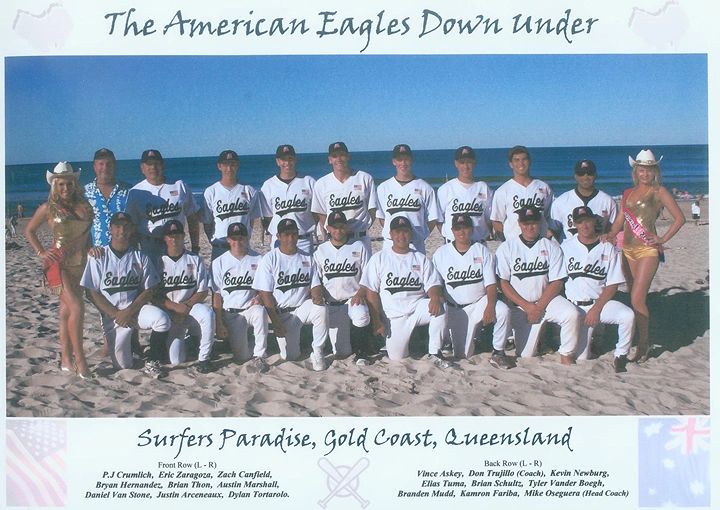 -----------------------------------------------

2016 AUSTRALIAN BASEBALL SHOWCASE TOUR
TOUR CONDITIONS
TOUR DATES: July 26 to August 09 2016.
TOUR PRICE: $4,395. from LAX. Contributions are tax deductible.
TOUR PRICE INCLUDES:
* Round-trip airfare from Los Angeles with stops in Cairns and Brisbane. Motor coach transfer to the Gold Coast.
* Accommodations in quality hotels (2-4 per room) and with host families (if possible).
* Entry in the Great Barrier Reef SPI Tournament, and games at Robina High
School and the Major League Baseball International Academy.
(8-9 games total)
* A sightseeing program to include entrance fees to all major sights visited & meetings with Major League Baseball personnel.
* All sanctioning for international competition.
* BBQ's, parties, and social events with the Australian hosts.
* T-shirts and assorted extras.
TOUR PRICE DOES NOT INCLUDE:
* Medical/accident, baggage, and trip cancellation insurance.
Insurance information can be provided.
* Optional sightseeing and tips for services.
* Meals.
* Passport fees, visa fees (if any), and airport taxes.
* Drinks, laundry, telephone calls, and items of personal nature.
PAYMENT SCHEDULE:
$ 500 To confirm participation
$3,895 May 1, 2014
$4,395 TOTAL – all contributions are tax deductible.

NOTE: Deposits will be accepted until the roster is full.
* The first 15 roster spots are confirmed on a first-come-first-served
basis to those that are invited. Receipt of your deposit will confirm participation.
* Cancellation penalty is $500 plus any funds irrecoverable.
* Tour price is based on airfares, land costs, exchange rates, and tariffs currently in effect and is subject to change.
* You must obtain a valid passport and visa to visit Australia.
* The American Eagles Baseball Club tour is operated by Sports Promotions International
and coordinated & sanctioned by the USA/Australia Baseball Exchange.