America's premier international traveling baseball club since 1984!


The American Eagles Baseball Club was founded in 1984 to travel, compete internationally, and experience cultural exchange through the platform of sport. Applications to participate are now being accepted from all candidates in all age groups for 2016 & 2017. Contact vaskey@aol.com

Each player is an important ambassador in sport of the USA. For those that cannot afford the travel expenses related to participation there may be grant funds and scholarships available.

The Eagles are a charitable non-profit organization (501-C-3) and all contributions are tax deductible.
Over 1,500 former Eagles' players have played on international tours in over 10 different countries. Over 50 former Eagles have gone on the play professional baseball. Hundreds have played college baseball.

The Eagles travel to Australia annually to participate in the Major League Baseball Academy (if available), or the Queensland Academy, the Barrier Reef Tournament, and the Gold Coast Friendship Series. Age groups include 20U, 18U, 16U, Collegiate, and Masters Open. We can also help you take your own local team on a similar international trip as the Eagles do.
AMERICAN EAGLES BASEBALL CLUB
2016 AUSTRALIAN BASEBALL SHOWCASE TOUR
Coach Rene Gonzales, former MLB player and coach
VARSITY AND J.V. TEAMS
TUE JUL 26 Depart Los Angeles via scheduled airlines.
WED JUL 27 Cross International Dateline in flight.
THU JUL 28 Arrive Sydney, Australia. Connecting flight to Cairns, Queensland.
Coach transfer to hotel. Day free to relax and wander
around downtown Cairns. Afternoon practice session.
FRI JUL 29 Great Barrier Reef Tournament
SAT JUL 30 Great Barrier Reef Tournament (2 games)
SUN JUL 31 Great Barrier Reef Tournament- BBQ party
MON AUG 01 Morning boat cruise to Fitzroy Island, Great Barrier Reef.
Day of snorkeling and fun on the reef. Afternoon return to Cairns.
TUE AG 02 Hotel check-out. Depart Cairns, fly to Brisbane. Coach Transfer to the
Gold Coast, Surfers Paradise.
WED AUG 03 Exhibition Game vs. Queensland Academy
THU AUG 04 Exhibition Game vs. Queensland Academy
FRI AUG 05 Team meeting with the Australian Director of Major League Baseball
Exhibition Game vs. Robina High School
SAT AUG 06 Exhibition Game vs. Robina High School
SUN AUG 07 Exhibition Game vs. Robina High School
MON AUG 08 Free Day.
TUE AUG 09 Depart Brisbane. Arrive LAX the same day.
PRICE: $4,395. From LAX. Tour price based on airfares, tariffs, land costs, and exchange rates currently in effect.
Cost is subject to change. Contributions are tax deductible.
NOTE: The above itinerary is an outline of travel, competition and sightseeing; and is subject to change.
============================
2016 AUSTRALIAN BASEBALL SHOWCASE TOUR
TOUR CONDITIONS
TOUR DATES: July 26 to August 09, 2016.
TOUR PRICE: $4,395. from LAX. Contributions are tax deductible.
TOUR PRICE INCLUDES:
* Round-trip airfare from Los Angeles with stops in Cairns and Brisbane. Motor coach transfer to the Gold Coast.
* Accommodations in quality hotels (2-4 per room) and with host families (if possible).
* Entry in the Great Barrier Reef SPI Tournament, and games at Robina High
School and the Queensland Academy.
(8-9 games total)
* A sightseeing program to include entrance fees to all major ights visited & meetings with Major League Baseball personnel.
* All sanctioning for international competition.
* BBQ's, parties, and social events with the Australian hosts.
* T-shirts and assorted extras.
TOUR PRICE DOES NOT INCLUDE:
* Medical/accident, baggage, and trip cancellation insurance.
Insurance information can be provided.
* Optional sightseeing and tips for services.
* Meals.
* Passport fees, visa fees (if any), and airport taxes.
* Drinks, laundry, telephone calls, and items of personal nature.
PAYMENT SCHEDULE:
$ 500 To confirm participation
$3,895 May, 2014
$4,395 TOTAL – all contributions are tax deductible.

NOTE: Deposits will be accepted until the roster is full.
* The first 15 roster spots are confirmed on a first-come-first-served
basis to those that are invited. Receipt of your deposit will confirm participation.
* Cancellation penalty is $500 plus any funds irrecoverable.
* Tour price is based on airfares, land costs, exchange rates, and tariffs currently in effect and is subject to change.
* You must obtain a valid passport and visa to visit Australia.
* The American Eagles Baseball Club tour is operated by Sports Promotions International
and coordinated & sanctioned by the USA/Australia Baseball Exchange.
The American Eagles Baseball Club was founded by Coach Jack Hodges in 1984. Coach Hodges is currently the Head Coach at Saddleback College in Mission Viejo, CA. Coach Hodges has also been a Head Coach and Assistant Coach many times for the U.S.A. Junior National Team.

In 1988 Vince Askey became the Executive Director of the American Eagles and remains in that position today. Askey has previously been a head collegiate coach at the Univeristy of California, San Diego. In addition, Askey has served baseball over the decades in several capacities, including being a professional team owner in the Australian Baseball League, a TV baseball broadcaster, a coach in several countries, and a consultant to Major League Baseball.

The Eagles are sustained by the efforts of volunteers who display an extraordinary amount of commitment and hard work, ensuring that our team is a positive influence in the lives of our youth.

The Eagles welcome all players, regardless of race, creed or national origin.
The American Eagles Baseball Club, Inc. is registered as a non-profit organization. We appreciate the generous support of the community, local merchants, and civic organizations. All contributions are tax deductible.

The Eagles Director, Vince Askey, has been recognized on two separate occasions in the Congressional Record for contributions to international baseball exchange and development!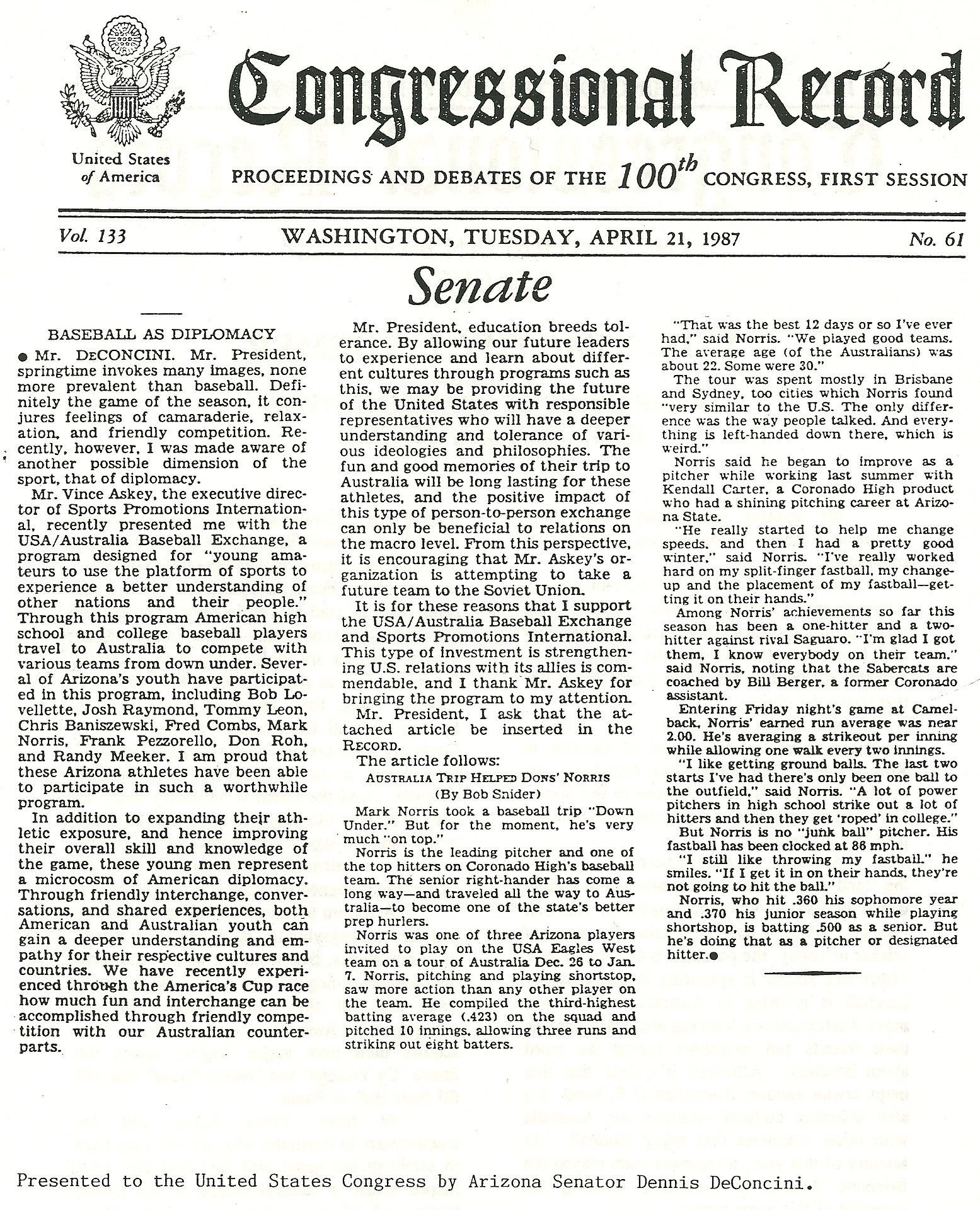 American Eagles Baseball Cub, Inc.
P.O. Box 423
Solana Beach, CA 92075 USA
VAskey@aol.com
(858) 755-1016

13-year